The state of Utah has not been that kind to Donald Trump, and the new statewide poll coming out of Utah has Gary Johnson, the Libertarian candidate for President, polling at a whopping 16%.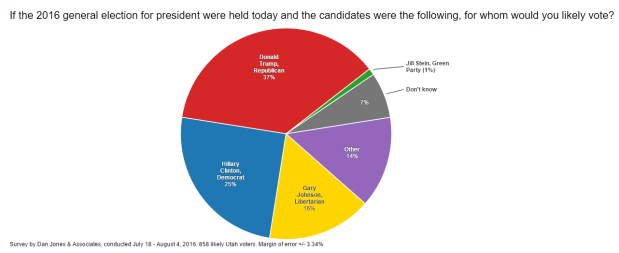 From  Utah Policy:
Our survey shows Libertarian presidential candidate Gary Johnson is surging among Utah voters, picking up 6 points in the last month. During that same time, support for Clinton and Republican nominee Donald Trump has stagnated.

In the latest numbers from Dan Jones & Associates, Trump leads the pack with 37%; Clinton pulls in 25% while Johnson gets 16% support. Green Party nominee Jill Stein gets 1%. 14% mentioned some other candidate while 7% remain undecided.

In our mid-June survey, Trump pulled in 36% and Clinton had 27%. Johnson scored 10% while Stein had 2%.
This election season is changing and the support for a third party candidate is showing in key states that could potentially tip the election to the House of Representatives.