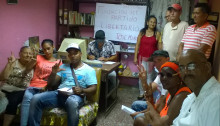 Members of the Libertarian Party of Cuba in Havana planned on attending the trials of members arrested in February for refusing to show their IDs to state police, with the expectation of being arrested.
Today, the party released this statement below via Facebook:
"As expected, our activists were detained. This morning at 6:30am Caridad, Nelson and Miguel were taken away by state authorities when they tried to leave to party headquarters towards the court where Manuel and Ubaldo would be on trial regarding their arrest in February which has had them in prison since then. This is the price of fighting for freedom under an authoritarian regime."
State forces currently have the Havana headquarters surrounded and intend on arresting anyone who attempts to leave.
More updates will be provided as they come.
UPDATE: Two more members of the party were detained for going to protest the trial.
"NEWS. We have two more detainees, our youngest member, party secretary, Yanet Padrón and founding member Rosa are in prison in Cuba and Chacón in Old Havana, it also confirmed that Eduardo Ramos Balaguer who until recently was reported as missing is detained there. All three were arrested for trying to protest against the arbitrary detention of our brothers arrested since February Manuel and Ubaldo."
UPDATE: "5 out of 7 of our activists have been released. Miguel Lopez Santos and Israel Reyes Montero are still under custody. They were all detained for TRYING to attend the trial against Libertarians who have been under arrest since February. But were prevented from attending the judicial process."