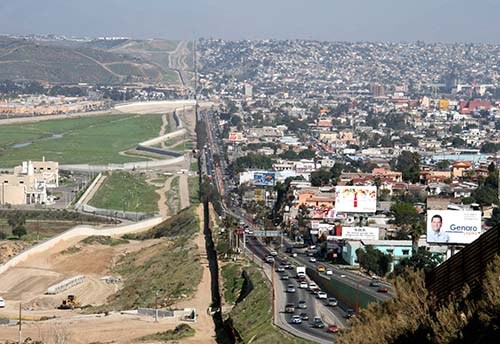 Donald Trump's proposed border wall and the reason for the government shutdown has gotten a ton of attention recently and with the different opinions about the wall, I thought it would be appropriate to give the Libertarian argument against the wall.
Waste of Money
First off the wall is a huge waste of money. Fiscal conservatives typically rail against wasteful government spending but they are staying quiet on his one. Yes, $5 Billion is a drop in the bucket of the federal budget but where do we draw the line when it comes to spending. The national debt is over $22 Trillion now and continues to rise at an exponential rate. The government has the ability to allocate that money elsewhere, whether that is paying down the debt or returning that money to taxpayers.
The Freedom to Travel
In Libertarian philosophy, the freedom to travel without restriction is fundamental. As free people, there are technically no borders and I shouldn't be told that I can't cross some arbitrary line that a government says exists. I should have the ability to flee oppression in favor of a free life.
Economic Downside
Basically, they will find a way around a wall no matter what. Whether that is finding areas that aren't walled off, or going under the wall, or even sometimes over the wall.
Donald Trump has insisted from the start of his campaign that Mexico will pay for the wall. When he presented a proposal to Congress to fund the wall's construction in January, he continued to insist that Mexico would repay the United States. For his part, Mexican President Enrique Peña Nieto has said that he would refuse to pay for any portion of the wall, and the back-and-forth became so heated in January that he canceled a meeting with Trump.
The U.S. president has remained vague about how this reimbursement will happen without Mexico's cooperation, and his total lack of understanding of basic economic concepts may be contributing to his erroneous belief. "The wall is a fraction of the kind of money…that Mexico takes in from the United States," he told CNN in April 2016. "You're talking about a trade deficit with Mexico of $58 billion." In other words, he seems to be saying that if the Mexican government does not give him the $31 billion or more that it will take to build the wall, Trump will tax America's business with Mexico. White House Spokesman Sean Spicer intimated something similar in January 2017.
Even if that were to happen, it is simply inaccurate to claim that America's southern neighbor would be paying for the wall, since the revenue would be coming from U.S. consumers. If the United States imposes a tax on Mexican imports, then people in America buying Mexican goods, from beer to cars, will cover it. Sen. Marco Rubio (R-Fla.) said as much to Trump during a presidential primary debate in January 2016, explaining that the Mexican government "doesn't pay the tariff-the buyer pays the tariff." Evidently, the lesson failed to stick.
Trump has also floated the idea of cutting off remittances to Mexico of unauthorized immigrants if the Mexican government refuses to pay up. His proposed regulatory method of doing this (claiming that cash wire transfers are actually bank accounts) is legally suspect, but even if it were licit, it would not cover the cost of the wall. Although Mexican immigrants annually send $26 billion to their families in Mexico, only half of the Mexican immigrants in the United States are here illegally, and the majority of the remittances from unauthorized immigrants would likely find a way home through means other than wire transfers.
At the end of the day why are we just all of a sudden having this argument? Yes, illegal immigration was a problem for a while, but it has died down since, but then Trump comes along and all of a sudden it is a national emergency.