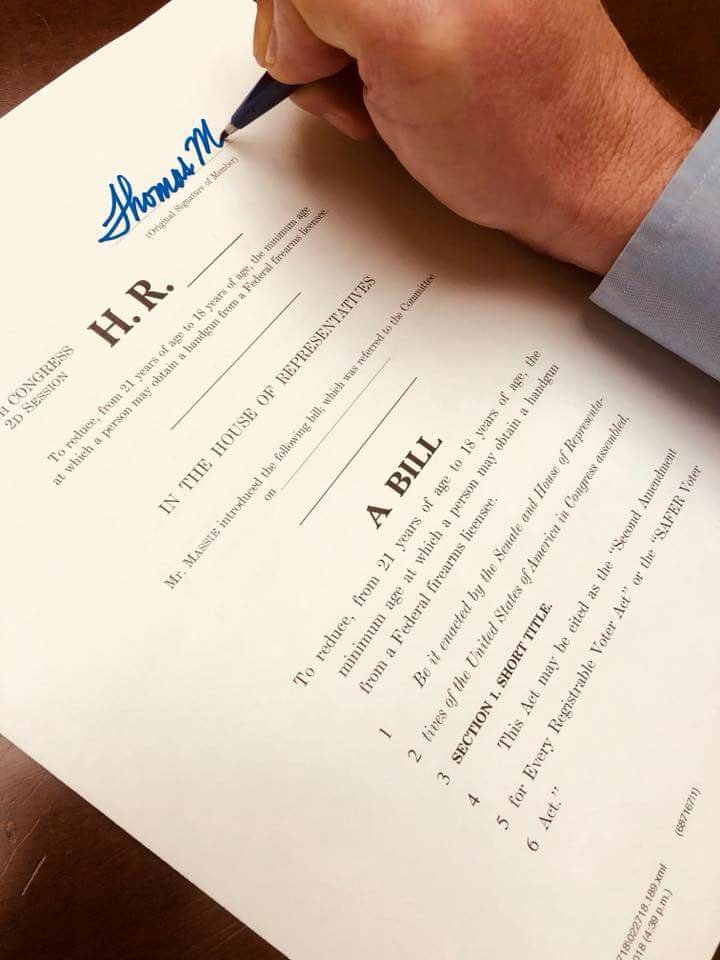 Kentucky Representative Thomas Massie introduced a bill that would repeal laws preventing 18-20 year olds from buying handguns 8n response to proposals to raise the age to buy a gun to 21 years old.
"Recent proposals to raise the minimum age to purchase a long gun from 18 to 21 are not simply misguided, but are also unconstitutional, especially if citizens under 21 are barred from purchasing a handgun," stated the congressman.
This announcement comes on the heels of Wal-Mart and Dick's Sporting Goods announcing that they would no longer sell firearms to anyone under 21 and would remove any assault style weapons.
Rep. Massie's full statement is below:
"This week, I introduced the Second Amendment for Every Registrable Voter Act. The "SAFER Voter Act" (H.R. 5112) would repeal the federal law that prevents voting age adults, 18 to 20, from purchasing a handgun from a Federal Firearms License (FFL) holder.
Why should a 20-year-old single mom be denied the right to defend herself and her children? 18, 19, and 20-year-olds are considered adults and are able to vote on important public policy issues. They can also form business contracts, get married, and serve in the military. As adults, these Americans should not be deprived of basic constitutional rights.
Recent proposals to raise the minimum age to purchase a long gun from 18 to 21 are not simply misguided, but are also unconstitutional, especially if citizens under 21 are barred from purchasing a handgun. District of Columbia v. Heller established that gun control measures cannot be so draconian as to completely extinguish the right to keep and bear arms, yet that's what happens when all gun purchases are prohibited for a certain class of adults based on age."