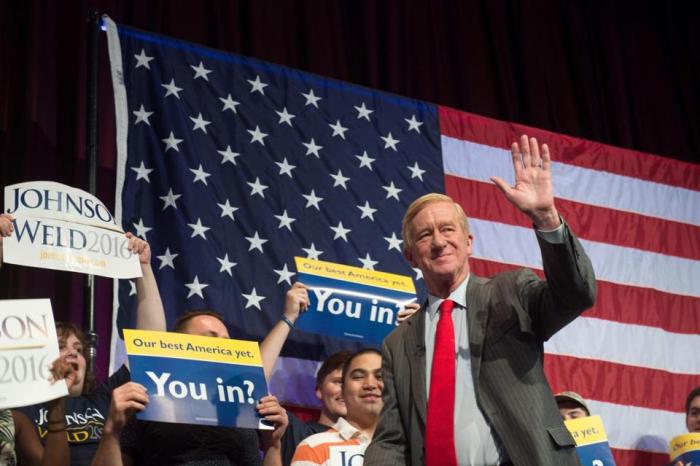 As we approach the 2016 Presidential election there are more rumors swirling the internet that Libertarian VP nominee Bill Weld has dropped out of the race and told voters to support Hillary Clinton.
There have been multiple rumors this election season using this same narrative, and they have all been disproven by Weld and the campaign.
Here is the statement from the Johnson/Weld Campaign:
Responding to numerous web stories and media reports regarding Libertarian Vice-Presidential nominee Bill Weld's strong denunciation of Donald Trump Tuesday, the Johnson-Weld campaign released the following statement from Communications Director Joe Hunter:

"Several web sites and media outlets have seized upon Governor Bill Weld's statement from a news conference Tuesday in Boston to jump to conclusions that are wishful thinking, rather than reality.

"Led by Occupy Democrats, a well-known mouthpiece for the left, the sensationalists and wishful thinkers are re-writing Gov. Weld's forceful condemnation of Donald Trump into a suggestion that voters should support Hillary Clinton. That is absurd.
In now way did Weld suggest to voters that they should support Hillary Clinton. He has, and will be, 100% behind the Libertarian ticket. He has come out multiple times to make this perfectly clear to voters.
He did warn voters against voting for Donald Trump and the consequences of him winning the Presidency. Here is that statement in full:
October 25, 2016:

"It is a privilege and an honor to participate in this year's national election campaign. I am grateful to Governor Gary Johnson for the opportunity to do so. Under Governor Johnson's leadership the Libertarian Party has made great strides in this election cycle. Gary and I will carry our message of fiscal responsibility, social inclusion, and smaller government through November 8, and I hope that this election cycle will secure for the Libertarian Party a permanent place in our national political dialogue.

"We are making strides toward breaking the two party monopoly, and America will be stronger when we do, but given the position of the Commission on Presidential Debates, the deck is still stacked against even a credible third party ticket with two proven former Governors.

"Against that backdrop, I would like to address myself to all those in the electorate who remain torn between two so-called major party candidates whom they cannot enthusiastically support. I'm speaking particularly to those Republicans who feel that our President should exhibit commonly accepted standards of decency and discipline.

"I would not have stepped out of the swirl of the campaign to make this statement if I did not fear for our country, as I do.

"A President of the United States operates every day under a great deal of pressure — from all sides, and in furtherance of many different agendas. With that pressure comes constant criticism.

"After careful observation and reflection, I have come to believe that Donald Trump, if elected President of the United States, would not be able to stand up to this pressure and this criticism without becoming unhinged and unable to perform competently the duties of his office.

"Mr. Trump has some charisma and panache, and intellectual quickness. These qualities can be entertaining. Yet more than charisma, more even than intellectual ability, is required of a serious candidate for this country's highest office. A serious candidate for the Presidency of the United States must be stable, and Donald Trump is not stable.

"Throughout this campaign, Mr. Trump has demonstrated an inability to handle criticism or blame well. His first instinct is to lash out at others. When challenged, he often responds as a child might. He makes a sour face, he calls people by insulting names, he waves his arms, he impatiently interrupts. Most families would not allow their children to remain at the dinner table if they behaved as Mr. Trump does. He has not exhibited the self-control, the discipline, or the emotional depth necessary to function credibly as a President of the United States.

"From the beginning of his campaign, Mr. Trump has conjured up enemies. First it was eleven million criminals in our midst, all bent on obtaining the benefits of citizenship, at our expense. Over time, the enemies became any trading partner of the United States. He says they are nothing but foreigners seeking to threaten our livelihoods. Now we have reached the point where his idea of America's enemies includes almost anyone who talks or looks different from him. The goal of the Trump campaign, from the outset, has been to stir up envy, resentment, and group hatred.

"This is the worst of American politics. I fear for our cohesion as a nation, and for our place in the world, if this man who is unwilling to say he will abide by the result of our national election becomes our President.

"This great nation has weathered policy differences throughout our history, and we will do so again. Not in my lifetime, though, has there been a candidate for President who actually makes me fear for the ultimate well-being of the country, a candidate who might in fact put at risk the solid foundation of America that allows us to endure even ill-advised policies and the normal ebb and flow of politics.

"In the final days of this very close race, every citizen must be aware of the power and responsibility of each individual vote. This is not the time to cast a jocular or feel-good vote for a man whom you may have briefly found entertaining. Donald Trump should not, cannot, and must not be elected President of the United States."
The Hillary Clinton campaign is scared of the Libertarian ticket for multiple reasons, but the big one is that Johnson appeals to Liberals across this country and he is a sane alternative to the two that are running at the top.
We are at a pivotal moment in our country's history and all sides are trying to gain any ground they think is worth pursuing.