The rise of Gary Johnson in the polls the last few months has brought forth a new idea in American politics. With the rise of Donald Trump and Hillary Clinton as their party leaders, many people are moving away from the idea of the two-party system and the idea of having to be backed into a corner to support a particular Presidential candidate.
Libertarianism is now taking hold as a legitimate political philosophy like it never has before. Part of this has been the Libertarian Party not trying hard enough to spread their message, and now it is becoming people opening their eyes to the ideas that Libertarians stand for.
I recently had a conversation with an educated person about the current election. He asked me what Libertarians actually stand for. I was taken back at first, but then soon realized that most people, even the educated ones, had never taken the time to become enlightened with Libertarian philosophy. Once I explained to him the basic tenets of Libertarianism his response was simple. "Well, that sounds like a reasonable philosophy."
It is a reasonable philosophy and people are starting to realize. In a recent poll out of Colorado, the percentage of voters under 35 that are supporting Gary Johnson has risen. It has risen to the point that he is now beating Donald Trump in that category.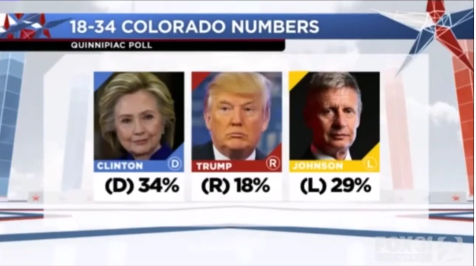 This right here is a game changer. He is beating Trump among voters 18-34 and is on the verge of overtaking Hillary Clinton in this category as well.
The reasoning behind this is simple. Libertarianism is now a young person game.
We now live in a society that has been plagued by big government in both economic and personal lives. We have seen our country in perpetual warfare for over 16 years. People are tired of the strong arm of the government dictating our lives and people are looking for a change. Gary Johnson is bringing forth that change and leading the movement by cross-appealing to both sides of the political spectrum.
Millenials are looking to live a life that is grounded in privacy and self-determination. The Libertarian philosophy gives them both of those virtues. They are ready for real change, not the fake change that Donald Trump is promising through his hate filled rhetoric.
The time of the Libertarian is here and ready to stay.