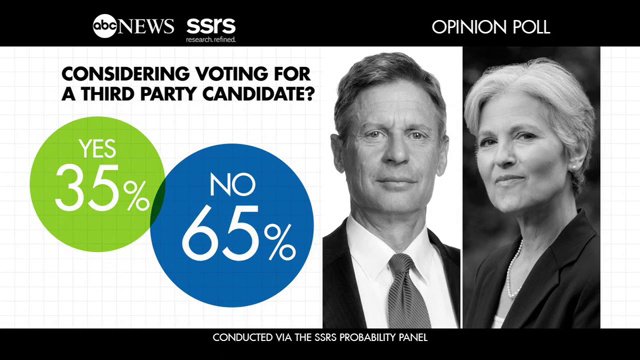 A new poll by ABC this morning reports that 1 in 3 Americans are still considering the prospect of voting for a Third Political Party this November.
Fifty-seven percent of Americans are dissatisfied with the choice between Donald Trump andHillary Clinton, according to the latest ABC News/Washington Post poll earlier this month. But, can third-party presidential candidates Jill Stein and Gary Johnson turn that dissatisfaction into votes this November?

Asked how they would vote in a four-way race including Johnson and Stein, respondents to the ABC News/Washington Post poll released Aug. 7 gave Hillary Clinton an eight-point lead over Trump, 45 percent to 37 percent, with Johnson at 8 percent, and Stein at 4 percent.

Now, together with ABC News' partners at SSRS survey research firm, we asked in an online poll of randomly chosen respondents if they are considering voting for a third-party candidate: 35 percent said yes.

Asked how worried they are, if at all, that votes for a third-party candidate could cause their least preferred candidate to win the presidency, 59 percent said they are worried: 35 percent somewhat worried, 15 percent very worried, and 9 percent extremely worried.
There is  still a yearning for another choice and it is evident in this new poll.
The biggest question that might come up is why are Johnson and Stein not doing better when they are included in polls? The answer is quite simple. The polls are still controlled by the two major parties and a pollster can get any answer and response they want by how they word the question.
I would predict that Gary Johnson's numbers are higher than being reported. He probably has over 20% of the vote in this country, but the polls are biased towards Trump and Clinton which are holding his numbers down.