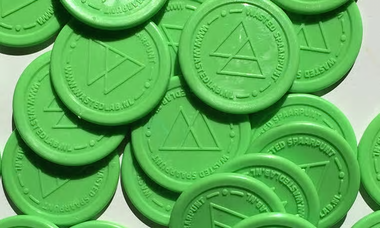 by Luke Henderson
Businesses in Amsterdam have begun to partner with Wasted, a company started by Dutch non-profit the Cities Foundation, that takes plastic and recycles them into coins to be used to purchase goods or get them at discounted prices.
Wasted sends citizens special trash bags (once they sign up as a neighbor) with QR code stickers that are linked to each person's account. The company uses cargo bikes to collect the trash bags and mails each subscriber coins. Benches, playground objects and other items to help the local community are made from the plastic that is collected in addition to the coins.
Silvia Salani, who owns a café in Amsterdam's Noord district called Al Ponte, offers a buy one get one deal on coffee for customers who bring in Wasted coins. In an article by The Guardian states "Salani believes being part of the scheme has been positive for business growth as she sees those who first came in with for free coffees returning as paid customers".
Since 2015, Wasted has collected 16.5 tons of plastic. That's about the weight of six Ford F-150 trucks.
The company is a demonstration of voluntary exchanges and free market economics will be the better solution to saving the environment. By essentially paying their subscribers for recycling, they have created an incentive to be a green and thrifty citizen.
With the average American citizen throwing away 185 pounds of plastic each year, a company like this could really make an impact in the fight against pollution in a way that would not use regulations and mandates, but market schemes and empowering citizens buying powers.