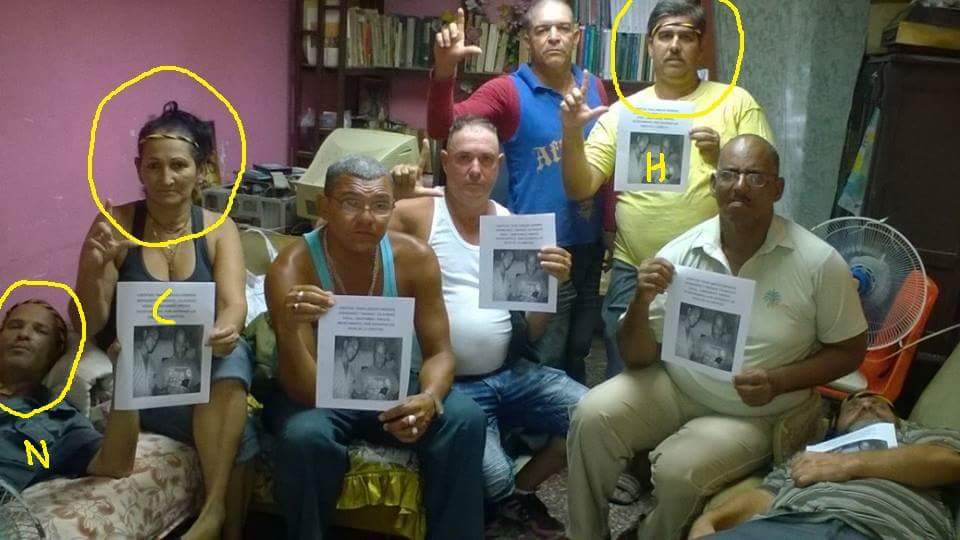 (Circled left to right: Spokesman Nelson Rodriguez Chartrand, President Caridad Ramirez Utria, and Vice-president Heriberto Pons Ruiz)
"1) A new Libertarian Library was opened in Camaguey province this week. 2) Cuban Libertarian Party President Caridad Ramirez Utria, Vice President Heriberto Pons Ruiz, and spokesman Nelson Rodriguez Chartrand were arrested June 22 and are being detained.
They're inside Camaguey Province. Further updates will come but communication from the island is limited.
Send your protest to the Cuban government @ Cancillería de Cuba (https://www.facebook.com/CubaMINREX/?fref=mentions)
Report this to Amnesty International @ Amnistía Internacional Américas (https://www.facebook.com/AmnistiaAmericas/?fref=mentions)
Ask your county and state Libertarian Party, and your country's Mises Institute, to denounce this arrest directly to the Cuban national government. (https://www.facebook.com/libertarians/?fref=mentions)
And PLEASE report this political persecution to the media! Even small blogs and podcasts make a huge difference!"
Apart from that statement, we believe it was reprisal for growing the Cuban Libertarian Party and its educational branches (the Mises-Mambi Institute and the Libertarian Libraries). The team had traveled to Camaguey province to found a second Libertarian Library (the first being in Havana at Cuban LP HQ).
The director of the new Libertarian Library in Camaguey, Alexis Muñoz, says there was no disturbance and that the police came without warning, without provocation, and arrested Caridad, Heriberto and Nelson with no justification or attempt to inform them of the charges. The team was previously arrested en masse at the Havana HQ on July 31, and on July 21 Nelson was robbed, kidnapped, and dumped outside of town by the secret police.
Also recently, Mises Institute Cuba changed its name to the Mises-Mambi Institute of Cuba. It's named partly after the great Austrian economist and partly after the Mambi movement. The Mambises were the guerrilla fighters and political philosophers who fought for Cuba's independence repeatedly against Spain over a span of decades. This name change was necessary after a disgruntled Cuban exile in Miami started a splinter group and registered Mises Institute Cuba as a copyright in Florida (to protect what he thought was his intellectual property). This put all the US Libertarian Party affiliates helping us, and all independent Cuban LP supporters in the US, in a position of liability for copyright infringement, fraud (from the fundraising and supply drives), and other legal violations that arise when people hide behind intellectual property
Via Zach Foster, North America spokesman Cuban Libertarian Party