Bruce Cohen over at The Libertarian Republic  has suggested that Gary Johnson is running away from the Libertarian Party by not having the word Libertarian in any of his campaign literature.
Check the Johnson/Weld marketing. Do you see the word Libertarian? How about the new ad that's spreading like fire on the internet? Nope, not there…

I first heard the idea of the strict importance of Libertarians (especially) listing their party on campaign signs (and all other advertising) from David Nolan.
While this is a pretty subpar charge against the Johnson campaign, we felt it necessary to defend the campaign.  Here is an official logo from the Gary Johnson campaign that shatters this allegation from Mr. Cohen: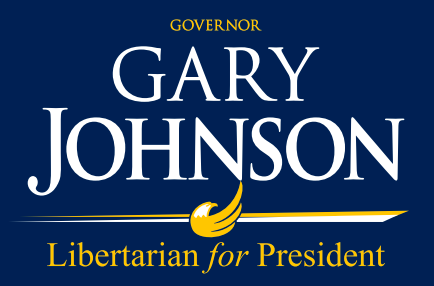 This quoted statement is also from the front page of the Johnson/Weld website that was recently revamped:
Be Libertarian with us…
Join us in trying something different.
Let's put parties and differences aside while we solve our problems.
Together we'll stop the spending and end the wars.
Together we'll restore our industrial might.
Together, we'll rebuild our own roads, bridges, schools and hospitals instead of building them for countries half a world away.


And if, in four years, we as a people decide we didn't like peace, prosperity and freedom, we can always vote tyranny back into office again.
This argument that Johnson is running away from the Libertarian Party is just fabricated nonsense being used to undermine the campaign of the Libertarian nominee.  There are still some hardcore Libertarians bitter about Johnson winning the nomination, but at the end of the day we are all in this together and need to really start treating this as a unique moment for the party and country.  This type of gotcha journalism does nothing but stir the pot of internet trolls.