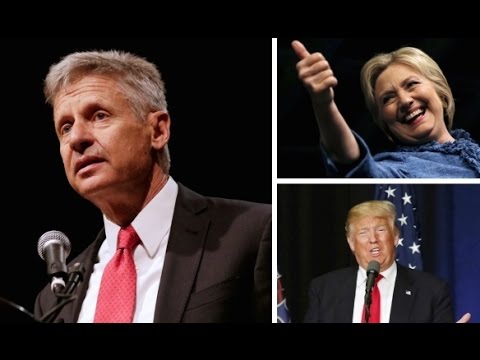 15% has been the magic number for the Gary Johnson campaign, and they have been working hard to hit that mark in order to be included in the fall Presidential debates.  Johnson and the Green Party filed a lawsuit against the Presidential Debate Commission last year arguing that any candidate who has a mathematical chance of being elected should be included in the debates and that suit is still pending.
However, Donald Trump just put his foot in his own mouth and gave the Johnson campaign the greatest gift of all.
As usual, Hillary & the Dems are trying to rig the debates so 2 are up against major NFL games. Same as last time w/ Bernie. Unacceptable!

— Donald J. Trump (@realDonaldTrump) July 30, 2016
CNBC reports that Frank Fahrenkopf, co-chairman of the Commission on Presidential Debates, suggested the commission:
… might consider giving an inch to a third-party candidate who is close enough to the cutoff point.
This is big news for the Johnson campaign and the Libertarian Party.
Johnson has banked his candidacy on the idea of getting into the debates as the only chance at winning.  If he is able to do that, then his numbers might go through the roof when pitted against the evilest candidates in modern political history.