As the election season progresses, I will be updating our analysis and predictions for the November election. About 3 weeks ago I ran a story that suggested that Gary Johnson has a real shot at 99 electoral votes.  I am now prepared to re-assess and change that prediction to 161 electoral votes.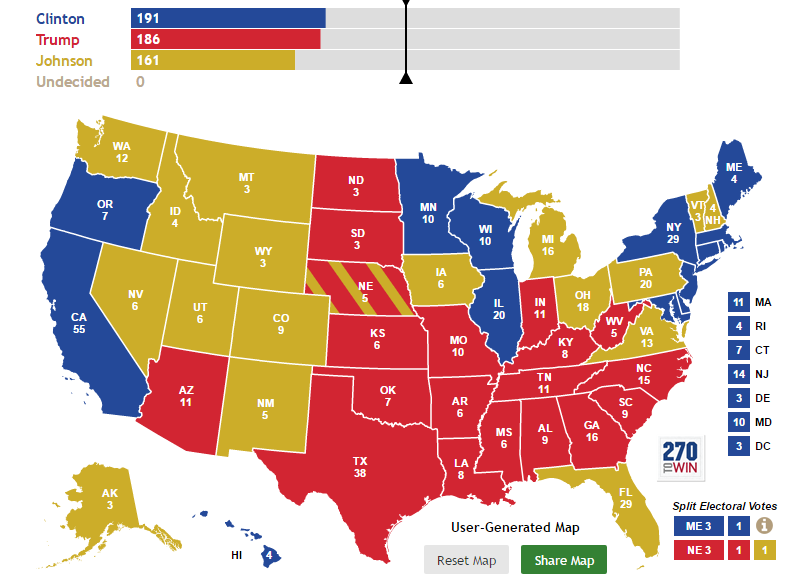 So the big question is how did I come to this conclusion, and what data did I use to make this type of predictions?
First off, I know it is a long shot for a Libertarian candidate to play this well in a general election, and in all reality, Gary Johnson might not get a single electoral vote.  But here I am, sitting and watching CNN, and Donald Trump is now the Republican nominee for President so anything is possible!
So let me break this down for you.
I have consistently said that Gary Johnson would play well out in the western part of the United States. That is Libertarian territory based on the lifestyle of many westerners, and Johnson being a Governor in that region gives him big a boost in name recognition.
In his home state of New Mexico, the most recent poll had the Governor at 14%.  He will play well in this state that is typically a Democratic state, but with the disconnect that many voters have over Trump and Clinton, the former governor is poised to have a great showing. If there is one state he can win it is New Mexico.
That same goes for Utah were a recent poll showed the Governor polling at 16% against Trump and Clinton. Here is our story about that from last month.
As for Colorado. The legalization of marijuana has been a successful venture for the state and a recent poll conducted shows that Governor Johnson is polling at 13%.  Colorado is the birthplace of the Libertarian Party and has a strong Libertarian presence with about 30,000 registered Libertarians in the state. Washington state (which hasn't had a poll) gets put into this category as well because of marijuana legalization.
I group the western states like Wyoming, Montana, Idaho along with Colorado because of the appeal that the Libertarian message has with those states. There isn't really good polling out of these states yet, so it is based on predictions.
As for Iowa, Michigan, Ohio, Pennsylvania, and Florida, a recent Ballotpedia poll put these states into play for the Governor.  They also coincide with some of the Real Clear Politics polling I have seen that show lower numbers, but going up with every poll that comes out in recent weeks.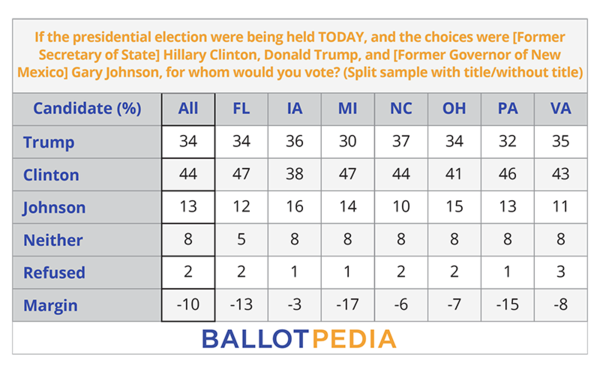 New Hampshire should be obvious to many of you that follow the Libertarian movement. That is the Live Free or Die state, and the home to the Free State Project. Therefore that is a simple one. There hasn't been any polling done up there, but I can say with confidence that Governor Johnson will play well in NH. (Plus that might spill over into Vermont)
As for Virginia, two big polls by Fox New and NBC put Governor Johnson at 10%.  The Libertarian Party should play very well in Virginia being close to DC, and with many that live there not wanting to see either Trump or Clinton as President, he could be in position for a good showing.
In 2013 Robert Sarvis played very well in the Governor's race (7%) in Virginia and that has the potential to spill over to the Presidential race this time around.
I will say it again. Yes, these predictions are a moon shot, but then again Donald Trump just became the GOP nominee and Hillary Clinton managed to avoid prison so there is nothing impossible at this point. 
If this scenario plays out or gets close, the election would be tossed to the House of Representatives.  At that point anything can happen and the likely hood of Gary Johnson being elected President goes up 10 fold. Most Republicans are not happy with Trump being their nominee, and if given a choice, they might be inclined to put in a former Republican Governor to the Presidency before turning the country over to the crazy mind of Donald Trump.
I welcome comments about this story and encourage you to think with an open mind.