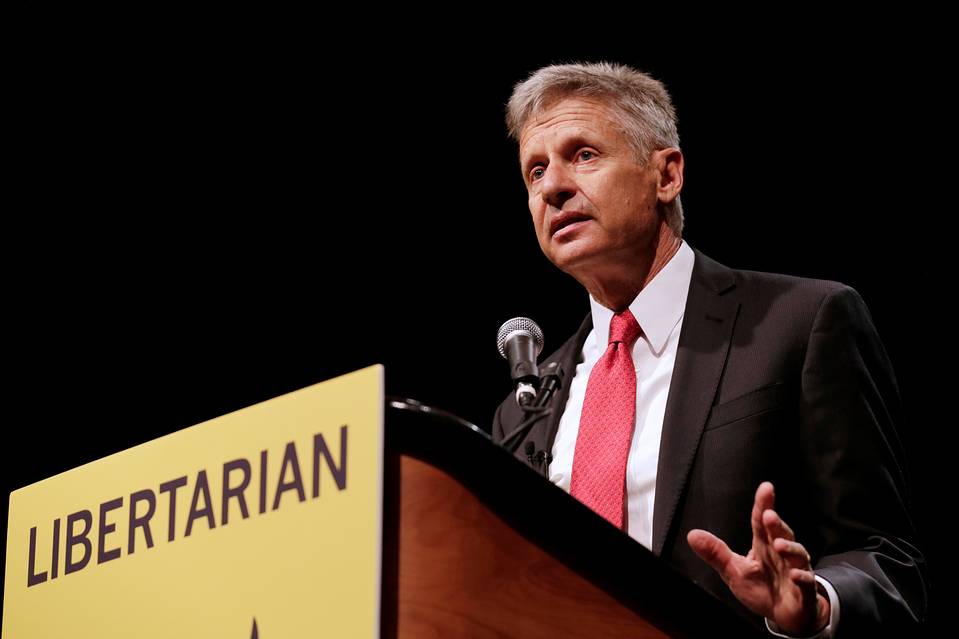 In an election year which features two of the most polarizing figures in recent political history there is a yearning for a third option that isn't insane or a criminal.
Well those people are in luck! There is another option who meets those requirements. His name is Gary Johnson and he is the former Governor of New Mexico.  He is running for President under the Libertarian banner and his running mate os the former Governor of Massachusetts, Bill Weld. One of the most experienced Presidential tickets in modern history.
The problem…most people don't know who Gary Johnson is! He has been included in some national polls, he has appeared on news outlets the past week, but according to many of the polls conducted with him in it almost 80% of people have never heard of the guy.
Therefore the point of this post is to introduce the American people to this sane choice. It will feature a quick bio and many videos for everyone to watch. I hope that everyone that reads this shares it around to their friends and family so they can see their is another choice this year and it's a choice worth supporting.
Governor Johnson, who has been referred to as the 'most fiscally conservative Governor' in the country, was the Republican Governor of New Mexico from 1994-2003. A successful businessman before running for Governor of New Mexico in 1994, Gary Johnson started a door-to-door handyman business to help pay his way through college. Twenty years later, he had grown that business into one of the largest construction companies in New Mexico, with more than 1,000 employees. Not surprisingly, Governor Johnson brings a distinctly business-like mentality to governing, believing that public policy decisions should be based on costs and benefits rather than strict ideology. Johnson is best known for his veto record, having vetoed more than 750 bills during his time in office — more than all other governors combined. His use of the veto pen has since earned him the nickname "Governor Veto." He cut taxes 14 times while never raising them. When he left office, New Mexico was one of only four states in the country with a balanced budget. Term-limited, Johnson retired from public office in 2003. An avid skier, adventurer, and bicyclist, he has scaled the highest peak on each of the seven continents, including Mt. Everest. In the 2012 presidential election, Johnson placed third and garnered more votes than any other Libertarian candidate in history. Johnson was raised Lutheran. He has two grown children, a daughter Seah and a son Erik, and currently resides in a house he built himself in Taos, New Mexico.
Learn more about Governor Johnson and his campaign for the Presidency at GaryJohson2016.com and learn more about the Libertarian Party at LP.org