Many speculated Republican candidates for the 2018 Missouri Senate elections have been dead ends for the party. MO Representatives Vicky Hartzler and Ann Wagner, among those whose names' were floated, both have stated that they will be running for reelection and not for Senate.
This has left the question of Austin Petersen having to compete in a primary up in the air since his announcement in July up in the air. That question has been answered as Missouri Attorney General Josh Hawley will run for the Republican nomination to take on incumbent Claire McCaskill.
According to Newsmax, Hawley is going to start an exploration committee with his official announcement anticipated in September. Several former Republican Senators, including Sen. Jack Danforth, and Vice-President Mike Pence, who personally called the Attorney General, urged Hawley to run, making him the obvious favorite among Republicans.
Josh Hawley is considered a rising star among the GOP due to his assisting in the Hobby Lobby Supreme Court case. But, the politician has one flaw that could cost him the primary.
During his 2016 campaign, Hawley ran an ad claiming that the state's capitol was full of career politicians who win positions to climb to other positions. This author hopes that the irony of this message will not be lost on the future candidate especially when this image was featured: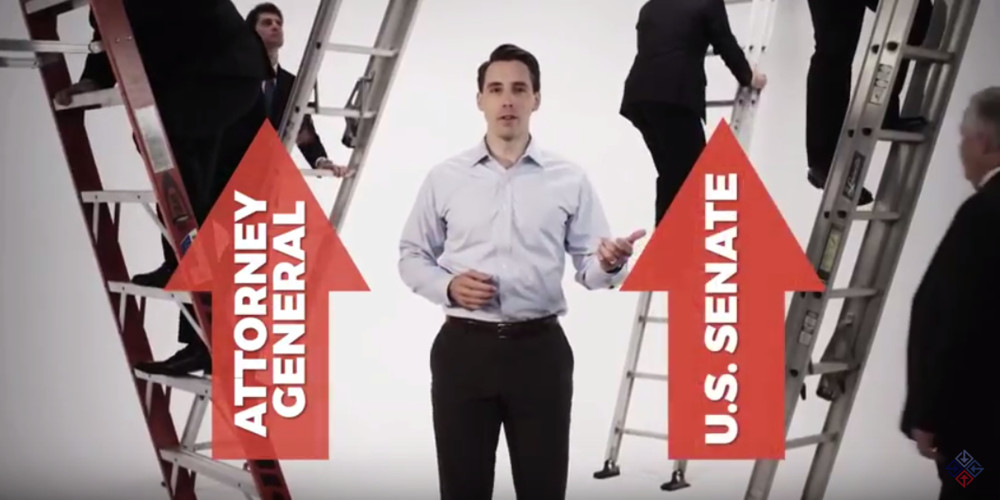 Taking an early opportunity to make her potential opponent appear like a hypocrite, Sen. McCaskill's campagin manager reminded voters that "For a guy who promised Missourians he wasn't just a ladder-climbing politician, he sure is taking a lot of advice from Washington, D.C. politicians on how to quickly climb that ladder."
Hawley is just another politician who claims to be an outsider and that the other side will take your freedoms. If the GOP truly wanted a candidate who truly cares about freedom and will not be toted as another politician trying to advance their career, they should support Austin Petersen.
Missouri doesn't need another handpicked candidate. The state needs one that will fight for the people and values liberty above party and ideology.